tenlamp Studio equipment with Professional Podcast P10 Microphone and G3 Live Sound Card, Audio Interface with DJ Mixer and Voice Changer
$31624

$316.24

Save $25.64
---
---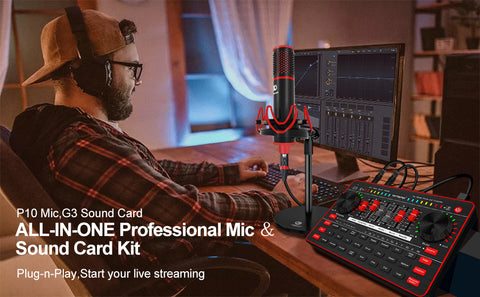 tenlamp Professional Microphone and Sound Card kit
Professional Microphone and Sound Card kit is exactly what you need when you have higher requirements for sound quality and want to start your live streaming, broadcast, music recording, gaming live streaming or radio shows.
P10 Professional microphones can help you record clearer sounds and reduce environmental noise. It can record various types of vocals and musical instruments.
G3 sound card is a live sound card that is not difficult to use, even beginners can quickly get started. It also is a feature-rich and professional DSP digital audio sound card, which incorporates microphone interfaces, audio mixer, sampler, and entertaining pitch changer.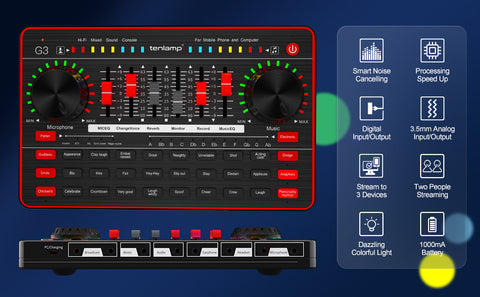 G3 Live Sound Card
Professional Noise Reduction Technology: Built-in 32-Bit DSP Noise Reduction Chip, 4 time processing speed, avoid the influence of current noise, ensure high quality sound quality and beautiful singing, Reverb (ECHO) makes your voice and singing more charming.
Multi-people and multi-devices simultaneous live streaming: The G3 sound card is equipped with a digital input/output port, two live streaming output port. Supports two people live streaming and 3 devices live streaming at the same time.
24 Special Funny Sound Effects: Shot, Kiss, Slap, Laugh, Countdown etc. Make your live streaming full of fun, control your live stream rhythm, and provide unexpected surprises for your audience.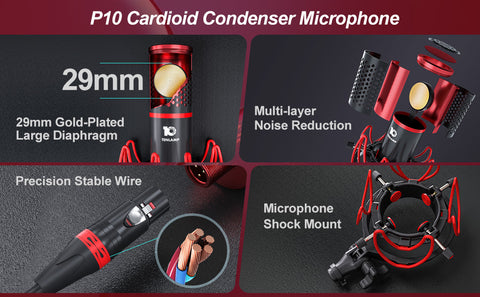 Professional Studio Recording Condenser Microphone: P10
29 mm gold-plated diaphragm: The cardioid microphone core made of gold-plated material has concentrated sound pickup, which can fully record audio and enrich the texture of the sound and less noise as you speak around the sides and the bottom of the mic.
Multi-layer noise reduction: Multi-layer noise reduction design with different materials can effectively reduce environmental noise.
Precision Stable Wire: High-precision wire, high-quality electrical conductivity can transmit audio stably.
Microphone shock mount: A newly upgraded microphone shock mount with 4 independently adjustable screw locks. Reinforced and shockproof to prevent the microphone from falling off.
Microphone Parameters:
Frequency range: 50 to 16,000 Hz.
Sensitivity: -46 dB±1 dB (1000 Hz 0 dB=1 V/Pa).
Equivalent noise level: ≤18 dB-A.
Max. S.P.L: 126 dB.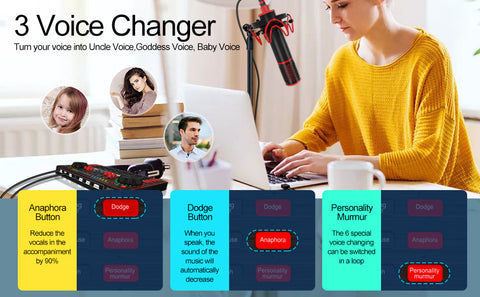 2 large knobs: Independently adjust the volume of the microphone and accompaniment music.
6 Fader Controls: Independently adjust the microphone balance(treble/bass), voice changer volume, reverb volume, monitor volume, record volume and accompaniment balance.
12-step Auto-Tune: Short press the "Electronic" button to switch the electronic tone, long press to turn off the electronic tune, LCD corresponds to 12 kinds of electronic tone cycle display.
5 reverb modes: You can freely choose 5 preset reverberation modes, Short press the "Pattern" button to cycle through the five sound scene modes: Acoustic,KTV,MC,Sonic boom,Magic sound.
PACKAGE LIST:
1* P 10 Microphone, 1 * G 3 Live Sound Card, 1 * G 3 Sound card Special Sound Effect Remote, 1* Mic Cable, 1* Mic Shock Mount, 1* Desktop Microphone stand, 1* 3.5 mm Earphone, 1* USB Data Cable, 3* 3.5 mm to 3.5 mm Audio Cable, 1* User Manual