Podcast Equipment Bundle, tenlamp Studio XLR to 3.5mm Microphone with USB Mini Sound Card, Audio Interface Sound Board Voice Changer, DJ Audio Mixer Equipment for Live Streaming Recording Gaming PC

tenlamp Mini USB Audio Console & Recording XLR to 3.5mm Condenser Mic Bundle for Podcast, Livestreaming...
tenlamp KB11 outdoor sound card is a comprehensive solution for audio processing that integrates audio input collecting, processing & optimizing and output controlling, built-in a DSP digital audio processor, can help you tune in real-time and rise your voice level, makes it possible to record professional, realistic and interesting sound quality, change your voice and add more funny sound effects to your podcast or stream, which will make your livestreaming more entertaining. record professional, realistic and interesting sound quality.
It can be used on smartphones, tablets and computers, compatible with Android, iOS, Window and macOS. And it is plug-and-play with no extra driver required.
Functionalities
Input/output controls: MIC EQ(Treble/Bass), Record, Reverb, Monitor, Music(accompaniment), Microphone;

5 sound scene modes:Acoustic(original sound ), KTV(Karaoke), Popping, Magic sound, MC(RAP);

20 outdoor sound modes; 4 Voice changer: Male God, Goddess, Uncle, Child;

8 Funny sound effects for enlivening atmosphere;

12 Electronic tones for you to choose your favorite tone;

BT wireless connectivity for music accompaniment;

Dual person and dual devices simultaneous live streaming;

Mixing, real-time monitoring, and equalizer;

Denoise: one-key noise reduction funtion;
Portable Podcast equipment kit is what you need when you want to start your podcast, radio shows, or Twitch streams. It is easy and intuitive to use, and you can go podcasting within minutes, provide enrich content and interact with your viewers rather than being distracted by the complicated operations.

It is easy to connect to microphones, smartphones, PC and other sources; Bult-in audio processor allows the users to control the sound levels and add live vocal and sound effects through a comprehensive set of tools in real time, to avoid laborious post-production and editing.
BT Feature is only for accompaniment music playback.

Working with PC/Laptop/Computer
Live stream on PC: USING charging cable, micro-usb end plug into sound card charging port, USB end plug into PC USB port; OR using 3.5mm to 3.5mm audio cable, one end plug into sound card "broadcast" port, other end plug into PC "microphone" port.

Using PC Playing accompaniment music: Using 3.5mm to 3.5mm audio cable, one end plug into sound card "Music" port, other end plug into PC "headphone" port.

Then set both the speaker on the playback page and the microphone on the recording page to:

 

MV-AP82X

 

or

 

tenlamp KB11 SoundCard. After setting, click Apply to confirm.
The software used by the computer also needs to be set, such as accompaniment software and live streaming software. In the software-"Settings", set the audio input and output of "sound card", "audio output", "microphone", etc. to:

 

MV-AP82X

 

or

 

tenlamp KB11 SoundCard, click Apply and confirm.
NOTE: During suing PC livestream or using PC playing accompaniment, you must turn on the "Putinside" button so that the viewers can hear the from PC/laptop/computer, such music, film sound, gaming sound, chatting.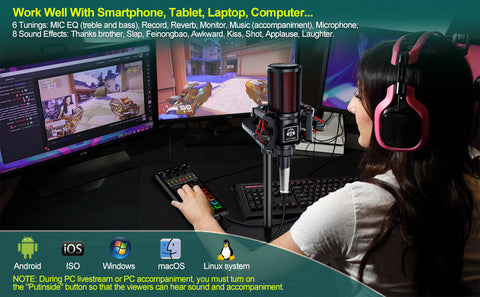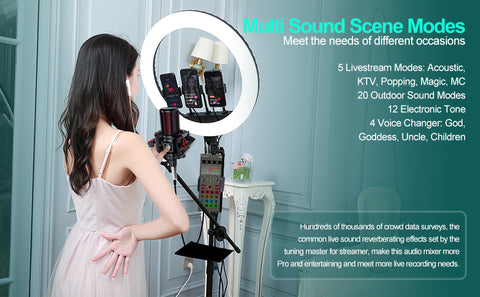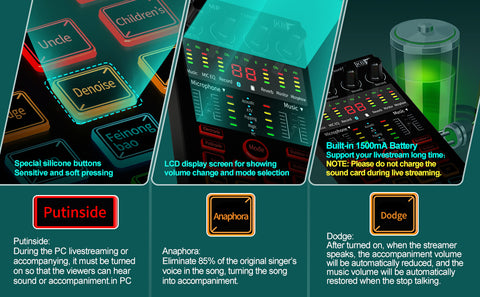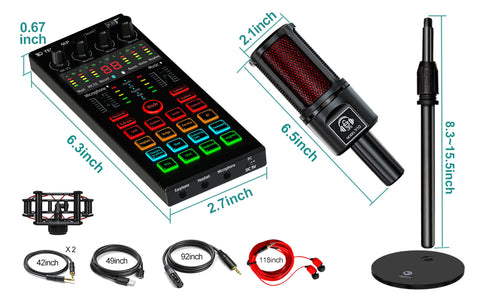 Warm Tips
1.Compatibility
It performs well on PC, however, we can't make sure that it is 100% compatible via digital connection as iOS and Android systems are constantly updating. And if the USB digital connection doesn't work, please use the 3.5mm TRRS input (USB-C or Lightning to 3.5mm adapter may be required but not included) to connect your device.
2. Sound quality
It works well for streaming and podcasting, but the sound quality might not be as good as a professional DJ mixer.
NOTE:
•Please don't use it while charging, Please charge the audio mixer before using for the first time.
• If not used for a long period, please charge the podcast console every 3 months.
• Do not charge for a long time. Please stop charging when the battery is fully charged to avoid over -charging.
• BT connection is limited by distance. Please do not place the too far away from the podcast console to avoid interference.
• BT feature is only for accompaniment music playback.
• During using PC livestream or accompaniment, you must turn on the "Putinside" function, Only in this way can the viewers hear your voice and the voice in the your PC.
• The sound card has just been received, and virtual power will cause noise. please use the sound card after it is fully charged.
• Keep a certain distance away from high-power equipment (such as refrigerators, loudspeakers, microwave ovens, routers).
• The sound card does not have a speaker, if you need external sound, please connect the speaker to the Earphone/Speaker interface of the sound card.
• Taking into the complexity of the product, if you have any questions, you can leave us a message, and we We are pleasure to provide you with support within 24 hours.