Audio Interface Live Sound Card DJ Mixer Kit for 3.5mm XLR Condenser Microphone Voice Changer for Guitar Studio Recording Broadcasting Streaming Gaming YouTube for Cellphone PC Computer Mac Laptop
$13674

$136.74

Save $34.20
---
---

Live Sound Card Podcast Studio Mic Kit
Portable Live Sound Card Podcast Studio Kit is exactly what you need when you want to start your podcast, broadcast, music recording, gaming live streaming, radio shows, Twitch or YouTube streams.
G3 Sound Card is a beautifully designed, feature-rich, entertaining and professional DSP digital audio sound card, which incorporates microphone interfaces, mixer, sampler, and entertaining pitch changer.
Y8 microphone is a condenser microphone, the wire is XLR to 3.5 mm microphone cable. It comes with a shock mount, desktop microphone stand;The desktop microphone stand is extendable, from 8.7 inch to 15.4 inch, to meet your daily live broadcast needs.
It is easy to use, Plug and Play, and focus on helping providing valued and interesting content and easily interacting with your audiences.
It offers channels of audio mixing and easy connections to microphones, smartphones, and other devices; allows the user to control the sound levels and add live vocal and sound effects through a comprehensive set of tools .
It is widely applicable to the current popular professional live broadcast studios, web live streaming, home studios, K song, recording, voice chat, and various live stream platforms, bringing perfect sound quality enjoyment to your mobile phone and computer live broadcast and singing.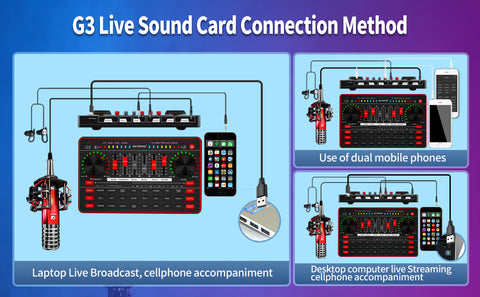 Multiple Devices Connection and Support
Multiple Devices Connection: Support single mobile phone live, dual mobile phone live, mobile broadcast computer accompaniment
Support B-T to Connect the Accompaniment Devices
Single Mobile Phone Live Broadcast Connection Method:
If your phone/tablet do not have a 3.5 mm audio jack, please use an audio adapter cable.
Dual Mobile Phone Live Broadcast Connection Method
1.If your phone/tablet do not have a 3.5 mm audio jack, please use an audio adapter cable.
2.If you hear heavy sound or noise when use an phone to live broadcast, please try to turn off the volume of the phone.
Computer Live/Accompaniment Connection Method
1. To live broadcast on a computer/laptop, you need to connect the charging port of the sound card through the charging cable.
2. The computer will automatically identify and install the sound card driver.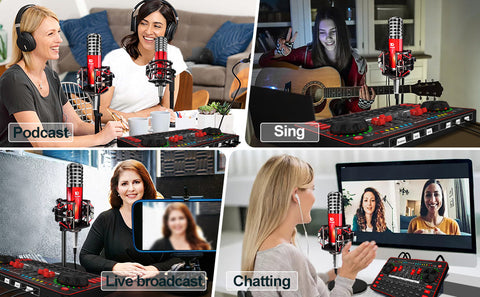 Y8 Podcast Condenser Studio Microphone
Y8 Silver-Red Microphone Specifications
Microphone type: XLR condenser microphone
Frequency response: 100Hz-10KHz
Pointing characteristic: Cardioid
Signal to noise ratio: ≥58dB
Environmental noise: 36dB (maximum)
Sensitivity attenuation characteristics: 3V-1.5V change -3dB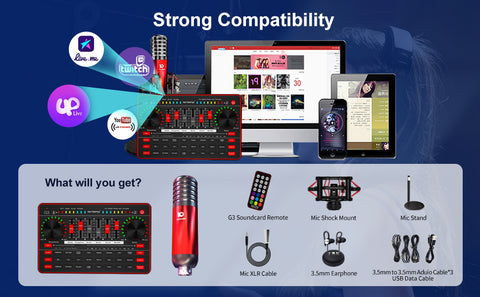 Strong Compatibility and Multiple Accessories
Multi-Device Support: Most major mainstream karaoke song software, iOS and Android cellphone, tablets, computer, earphone, speaker,microphone.
What will you get:
1 * G3 Live Sound Card, 1 * G3 Sound card Remote, 1 * Y8 Silver-Red Condenser Microphone, 1 * 3.5 mm Earphone, 1 * Mic XLR Cable, 1 * Mic Shock Mount, 1 * USB Data Cable, 1 * Desktop Microphone stand, 3 * 3.5 mm to 3.5 mm Audio Cable