tenlamp Podcast Equipment Bundle, Studio Recording Condenser Microphone & Live Sound Card, USB Audio DJ Mixer Voice Changer Audio Interface Sound Board for Streaming Gaming Singing PC Tiktok YouTube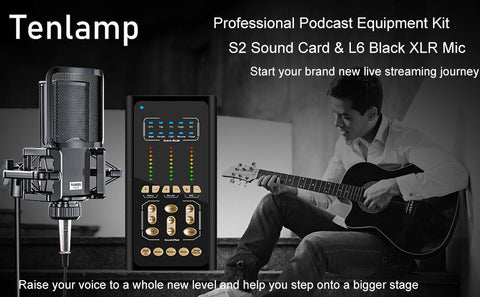 Tenlamp Portable Live Sound Card Podcast Studio Mic Kit
Tenlamp Portable Live Sound Card Podcast Studio Kit is exactly what you need when you want to start your podcast, broadcast, music recording, gaming live streaming, radio shows, Twitch or YouTube streams. It can raise your voice to a whole new level and help you step onto a bigger stage.

S2 SoundCard is a beautifully designed, feature-rich, entertaining and professional DSP digital audio sound card, which incorporates microphone interfaces, mixer, sampler, and entertaining pitch changer, It is easy to use, Plug and Play, and focus on helping providing valued and interesting content and easilly interacting with your audiences

It offers channels of audio mixing and easy connections to microphones, smartphones, and other devices; allows the user to control the sound levels and add live vocal and sound effects through a comprehensive set of tools.

It is applicable to the current popular live broadcast studios, web live streaming, home studios, K song, voice chat, and various live stream platforms, bringing perfect sound quality enjoyment to your mobile phone and computer music streaming and singing.