tenlamp Audio Mixer Kit, G3 Live Sound Card & M8 Studio Recording Microphone, Audio Interface Voice Changer, USB DIGITAL Podcast Equipment Bundle
$10333

$103.33

$16.33 OFF
---
---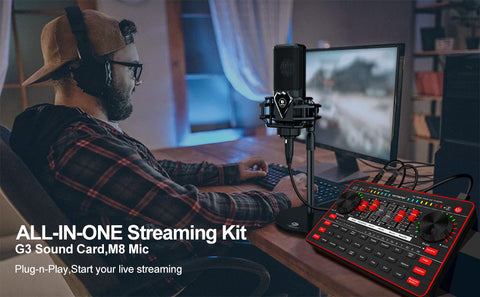 tenlamp Podcast Microphone Audio Mixer Bundle for Live Streaming
Studio Live Sound Card Live Streaming Kit is exactly what you need when you want to start your live streaming, podcast, broadcast, music recording, gaming live streaming, radio shows.
This sound board is a live sound card that is not difficult to use, even beginners can quickly get started. It also is a feature-rich and professional audio digital signal processor, which incorporates microphone interfaces, audio mixer, sampler, and entertaining pitch changer.
G3 Live Sound Card
Professional Noise Reduction Technology: Built-in 32-Bit digital signal processor Noise Reduction Chip, 4 time processing speed, avoid the influence of current noise, ensure high quality sound quality and beautiful singing, Reverb (ECHO) makes your voice and singing more charming.
Multi-people and multi-devices simultaneous live streaming: The sound mixer is equipped with a digital input/output port, two live streaming output port. Supports two people live streaming and 3 devices live streaming at the same time.
24 Special Funny Sound Effects: Shot, Kiss, Slap, Laugh, Countdown etc. Make your live streaming full of fun, control your live stream rhythm, and provide unexpected surprises for your audience.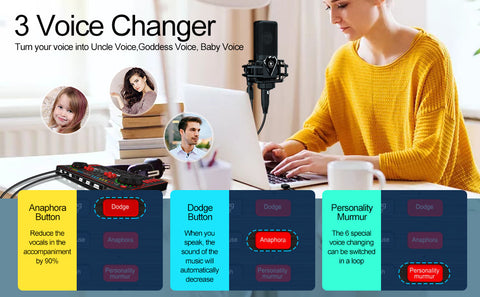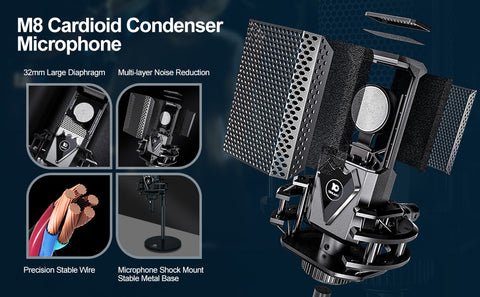 This condenser microphone adopt heart-shaped polar pickup design, the collected sounds are more focused, and less noise while you speak around the sides and the bottom of the mic, and help you record clear, smooth, pure sound quality.
Microphone Parameters:
Frequency range: 40 to 18,000 Hz.
Sensitivity: -43 dB±1 dB (1000 Hz 0 dB=1 V/Pa).
Max. S.P.L: 125 dB .
Equivalent noise level: 16 dB-A.
Signal/noise ratio: 66 dB.
Impedance: 2.2 KΩ.
Operating voltage range: 1.0 V~10 V.
Voltage characteristics: 3 V-1.5 V Sensitivity Variation less than 3 dB.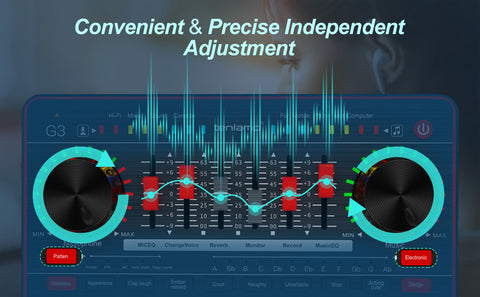 PACKAGE LIST:
1 * G 3 Live Sound Card, 1 * G 3 Live sound card Special Sound Effect Remote, 1* M 8 Microphone, 1* Mic Cable, 1* Mic Shock Mount, 1* Desktop Microphone stand, 1* 3.5 mm Earphone, 1* USB Data Cable, 3* 3.5 mm to 3.5 mm Audio Cable, 1* User Manual.