Podcast Microphone Sound Card Kit, Professional Studio Condenser Mic & G3 Live Sound Mixer/Voice Changer/Audio Interface/Audio Mixer for Streaming/Gaming/Recording/Singing/Tiktok/YouTube/PC/Computer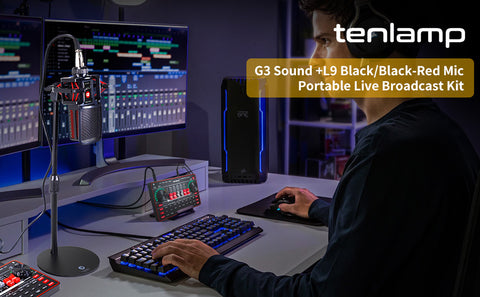 Tenlamp Portable Live Sound Card Podcast Studio Mic Kit
Tenlamp Portable Live Sound Card Podcast Studio Kit is exactly what you need when you want to start your podcast, broadcast, music recording, gaming live streaming, radio shows, Twitch or YouTube streams.

G3 SoundCard is a beautifully designed, feature-rich, entertaining and professional DSP digital audio sound card, which incorporates microphone interfaces, mixer, sampler, and entertaining pitch changer,

It is easy to use, Plug and Play, and focus on helping providing valued and interesting content and easilly interacting with your audiences

It offers channels of audio mixing and easy connections to microphones, smartphones, and other devices; allows the user to control the sound levels and add live vocal and sound effects through a comprehensive set of tools .

It is widely applicable to the current popular professional live broadcast studios, web live streaming, home studios, K song, voice chat, and various live stream platforms, bringing perfect sound quality enjoyment to your mobile phone and computer live broadcast and singing.
 G3 Tuning Master Live Sound Card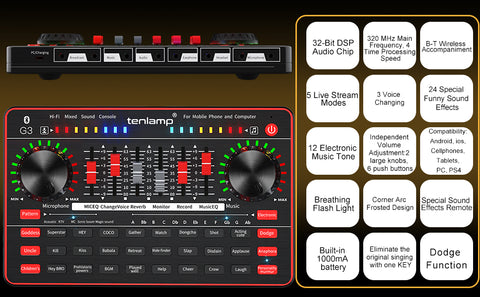 Precision Tuning
Upgraded DSP Audio Chip

: Good sound comes from a good inner core, which can adjust the rhythm in time to make the audio clearer and stable, and the output sound effect is more realistic.

12 Electronic Tone

: Professional-grade electronic tone adjustment, choose the beloved sound for you. Short press to switch electronic tone, long press to turn off electronic tone

2 large knobs & 6 push buttons

: Independently adjust the volume and effects of microphone, accompaniment, treble/bass, voice changer, reverb, monitoring, recording, accompaniment balance.
Dodge Button:

 

After turning on the dodge effect, when you speak, the sound of the music will automatically decrease, highlighting your voice, and when you stop talking, the volume of the music will automatically resume.

Anaphora Button

: Reduce the vocals in the accompaniment by 90%, turn the song into an accompaniment, and choose your favorite accompaniment.

Personality Murmur Button

: Press the button to turn on the personality voice changing, the 6 personality voice changers can be switched in a loop, and the voice line of the personality voice changer can be adjusted by adjusting the changevoice push button, and you can choose your favorite soundline.

Pattern Button

: Cycle through 5 Live Broadcast Modes: Acoustic mode, KTV(karaoke) mode, MC mode, Sonic boom mode, Magic sound mode. Suitable for most live streaming scenes.
Tenlamp L9 Microphone & G3 Audio Mixer Kit for Web Live streaming
G3 Tuning Master---Great Digital Gift for those who love live streaming.
32

 

mm large diaphragm microphone

Microphone stand & microphone shock mount

B-T

 

wireless accompaniment

Dazzling Colorful Light Design: intelligent voice control indicator light and breathing light

Large Knob Design & long track Push Button Design, precise volume adjustment

32-Bit DSP

 

Audio Chip & 320MHz Main Frequency

Anti-slip Finger Position & Four-Corner Arc rounded Design

System Compatibility

: compatible with iphone/Andriod smartphone/ipad/PC/tablet/ various live Platform.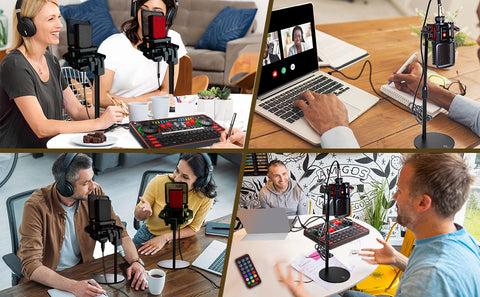 L9 Black-Red Microphone Specifications
Product size: 153mm * 50mm * 33mm

Microphone type: condenser microphone

Sensitivity: -50±2dB RL = 2.2Ω Vs =1.5V (1KHz 0dB=1V/Pa)

Impedance: 2.2Ω Frequency response: 50-18000 Hz

Pointing characteristics: Cardioid (0-180°, @250Hz-5000HZ>10dB)

Allowable current: Max 0.5mA

Operating voltage range: 1.0V~10V

Maximum withstand sound pressure level: 110db S.P.L

Signal to noise ratio: ≥58dB

Voltage characteristics: 3V-1.5V Sensitivity Variation less than 3dB